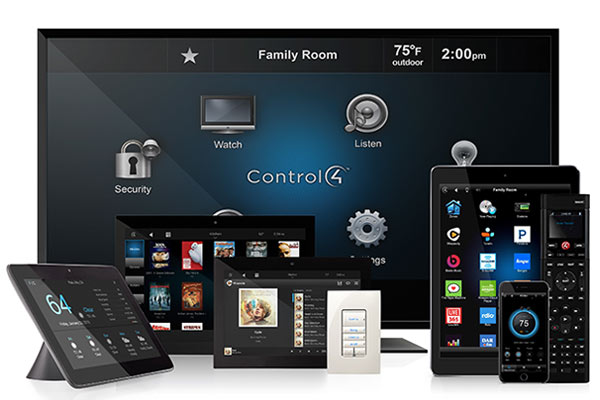 As the operating system for the connected building, Control4 brings automation and control to the broad market. Control4 technology is at the heart of an expanding ecosystem of leading consumer electronics products designed to work together with ease. Control4 develops and delivers award-winning control software and hardware for virtually any room or building from anywhere at any time. Control4 is the affordable, easy to use, and easy to install solution for digital living. From essential energy management to effortless entertainment; from lighting control to comprehensive security systems, Control4 is the platform for managing all the pieces of today's connected life.

Sonos is the wireless HiFi system that lets you stream all the music on earth in every room. Start with one room, then, expand anywhere to fill your home with room-filling sound. Set up Sonos players wirelessly and control all your music with free apps for your Android®, iPhone® or iPad®.

In a world of cookie cutter products, Triad is the sole company designing and manufacturing a comprehensive line of high-end architectural loudspeakers. They don't look at our products as commodities, but rather as individual Unique Solutions to the problem of seamlessly integrating high-quality sound into a sophisticated living environment.
They believe you shouldn't have to settle for a generic "good enough" custom speaker when there is an innovative Triad product that is perfect for virtually any application. There are other critically important reasons for choosing Triad. They believe the best custom audio products on earth will not make you happy unless the system is properly conceived, designed, installed, and explained.

Meridian founders Bob Stuart and Allen Boothroyd met in Cambridge in the early 1970s and it was through a shared love of music they became friends. But it was their desire to better hear the music they loved that inspired them to design and manufacture their own audio equipment. And so Meridian was born.
As they have been from the company's inception, every Meridian piece is still conceived, engineered, and built in the UK. Keeping production low volume and high quality ensures the most outstanding results and speaks volumes of Allen and Bob's unswerving commitment to making the best.

Known for engineering integrity, design innovation and phenomenal acoustic transparency. Each KEF loudspeaker is created with the same passion for acoustic excellence whatever the budget, so which ever you choose you will have the satisfaction of knowing that you're experiencing the full richness, emotion and depth that the original artist intended.

If the truth be told, nearly all "home theater" products are merely "home audio" products renamed for marketing purposes. There is a fundamental flaw in attempting to reproduce theater sound this way, compressed dynamics, limited volume levels and driver failure are but a few of the issues resulting from the technology mismatch. PRO products offer a unique alternative, designed and built to deliver the big sound we've come to expect from motion picture soundtracks, while offering bullet-proof design. PRO is proud to offer a unique line of professional-grade loudspeakers using advanced DSP to elevate the stature of "home theater" to that of "Cinema" for the home. For the first time, the big, dynamic, and exciting sound of the best commercial cinema can be experienced at home.

Arcam designs and manufactures award winning Hi-fi and home cinema equipment from its base just outside Cambridge in the UK.
Arcam exists to bring the highest fidelity reproduction of music and movies into people's homes. We are committed to engineering products that deliver a level of audio performance that is so convincing and lifelike that it connects you straight to the emotional power of the music. If you love music and movies then you need to experience the magic that an Arcam-based system can produce

Trinnov Audio designs and manufactures preamplifiers and processors featuring exclusive loudspeaker/room optimization and 3D sound technologies for high-end Hi-Fi & Home Theaters, Professional Studios and Movie Theaters.
The technology ensures an unmatched spatial resolution for the most incredible immersive experience and represents the only sustainable solution to the inherent incompatibility issue of current and future 3D sound formats.

All Lyngdorf Audio products exist for one purpose: to provide sound systems that render audio exactly as the musician and sound engineer intended, with nothing added or taken away through the process of recording and replay.
Right from the start they have worked intently on the research and development necessary to lay the groundwork for the technologies to come, and right from the start they have insisted that the tools they develop provide a measureable improvement to the way audio is processed. Every technology they launch is tested, proven, and supported by hard facts.
Applying digital technology to amplification and room correction has changed the face of the audio world. Lyngdorf Audio developed these technologies first, and Lyngdorf Audio developed them best.

Improving the way you experience sound has been the focus of the Origin team for over three decades. These speaker designers and engineers have over 100 years of collective experience, have won hundreds of awards for their efforts and have invented numerous patented technologies that have dramatically advanced the art of sound reproduction.

Sony has played a key role in the development of Blu-ray Disc™, CD, DVD and Super Audio CD technologies, among many others. The company is noted for a wide range of consumer audio-visual products, such as the BRAVIA® 3D LCD HDTV, BRAVIA® LCD high-definition television, Sony Internet TV with Google TV and the SXRD™ 4K digital projector.